BENITO BAR MARK , AQHA #1,081,432, was a son of Doc's Benito Bar by DOC BAR. His dam was Leonora Bar by Elcapitan Riker (AQHA Chp. grandson of Sugar Bars). "Mark" received his AQHA Championship in Western Pleasure (17 pts.) and in Reining (6 pts.) and Halter (20 pts.). "Mark" has sired numerous halter and performance point earners, with his get having attained over 265 AQHA Halter and Performance points.

Shown below is a photo of BENITO BAR MARK as a four-year old in 1982.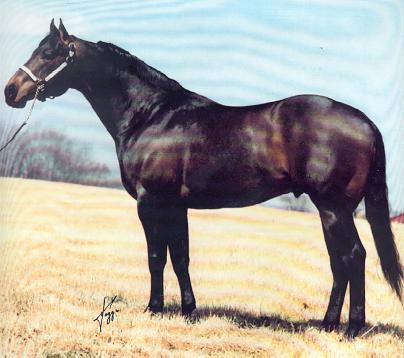 Shown above is BENITO BAR MARK as a four-year old
"MARK" stood at stud for many years at Willow Brook Farms in Catasauqua, PA, owned by C.T. Fuller who owned the famous Joe Cody and also "Mark's" sire, Doc's Benito Bar by Doc Bar.
BENITO BAR MARK - 1979 - 1997
We purchased "MARK" in January of 1993 and were blessed with three foal crops by him before his death in the spring of 1997. From that first foal crop we retained two of his sons out of direct daughters of EASTER 86 JAKPOT. These two sons, Jaks BENITO BAR MARK and Jaks BENITO BAR GOLD, are shown on their page along with some of their offspring.
BENITO BAR MARK'S Pedigree
BENITO BAR MARK'S sire was Doc's Benito Bar (AQHA CHP., and Leading Sire of Point Earners, Multi. AQHA Chp., Superior Perf.,NRHA Sire of the Year 1976; leading paternal grandsire and a leading broodmare sire in the NRHA in 1992. A leading broodmare sire of Pleasure futurity money earners in 199l ROM of Show. Sire of World Champions, Sire of NRHA World Champions, over 124 performance get.) Doc's Benito Bar was sired by DOC BAR. Also included on "Mark's" top side is: Dottie Dee, ROM Arena Producer, by Champagne an ROM Race Sire, and Joe Reed 3.
BENITO BAR MARK'S pedigree of his dam
BENITO BAR MARK'S dam was Leonora Bar, bred by Westenhook Farm in Conn. who was the dam of 8 foals: 4 Performers, 1 AQHA Chp., 2 ROM, 1 Superior, 1 Youth ROM, Amatuer Point Earners. Her sire was Elcapitan Riker, ROM Arena, AQHA CHP., and ROM Arena Sire; by Leo Sandy Bar, ROM Arena, AQHA Chp. sire, Sup. H/Perf. Sire; by SUGAR BARS. Leo Sandy Bar is out of Leota San (AQHA Ch. & ROM Arena producer) by Leo San by LEO. On her bottom side she goes back to Bert and Chubby three times each. Her dam was Dusty Dunie (AQHA Chp., Sup. Perf., ROM Arena Prod.) whose sire was Chubby's Dusty (Honor Roll Perf. & ROM Arena Sire).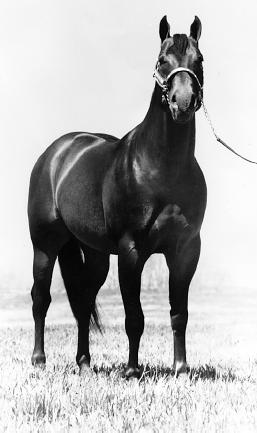 BENITO BAR MARK
The above photo was taken of "Mark" as a three year old.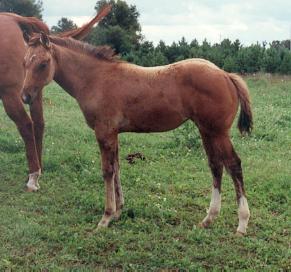 Jaks BENITO BAR MISS, AQHA #3,333,319
This 1994 Dun mare is a daughter of BENITO BAR MARK and out of a direct daughter of EASTER 86 JAKPOT, a mare called Miss Leo King 86, who was a full sister to our "King", JAKS GOLD KING LEO.